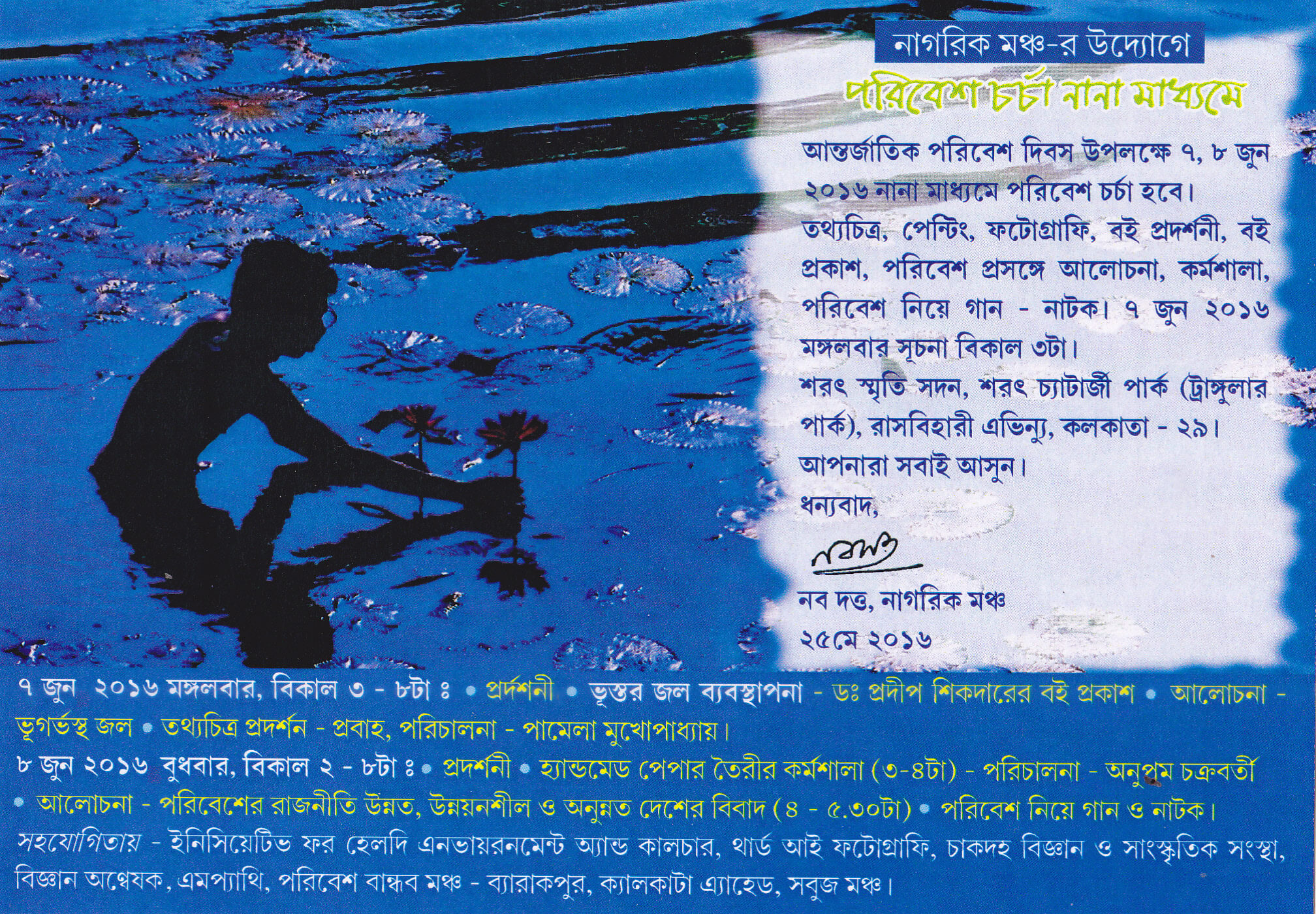 Dear Sir/ Madam
INVITATION
On the occasion of World Environment Day 2016, Nagarik Mancha has taken an initiative of holding a Program of "PARIBESH CHARCHA NANA MADHYAME" ( an environmental culture from different angle) on 7th and 8th June, 2016 from 2pm to 8pm at SharatSmritiSadan, Rasbehari Avenue (near Ballyganj Triangular Park), Kolkata-29 .This initiative is in associationwith andin patronage of some other organisations : Inititive For Healthy Environment And Culture(IFHEC), Third Eye Photography, ChakdahaBiggan O SanskriticSanstha, BigganAnwesak, EMPATHY, ParibeshBandhab Mancha- Barrackpur, Calcutta Ahead, Sabuj Mancha and others.
The program will be inaugurated by the eminent environmental Scientist ShriDhrubajyoti Ghosh at 3 pm on the 1stday( 7th.June/Tuesday).Shri SujayBasu has kindly consented to adorn the chair as Chief Guest .
Our other Special guests of Honour are :
SarbaShri/
KalyanRudra,Debashis Kumar, ArunavaMazumdar, S.P. Sinha Roy,Pradip Kr. Sikdar, AshisMazumdar, Aniruddha Mukherjee, KrishanuChakravorty, TusharChakravorty, Subhas Dutta, Samar Bagchi,Meher Engineer, JayantaBasu,DulalBasu, Subrata Ghosh , Rabin Mazumdar, Milan Dutta, SuvenduDasgupta, Biswajit Mukherjee, Subhashis Mukherjee, SmtSaswati Sen and others.
The Events and Performances in two days' program include:
7th June,2016( Tuesday) 3pm to 8pm
1)Inauguration of the Program
2)Inauguration of Prof.Dr.Pradip Kumar Sikdar's book on Ground water ( Bengali Version by ManindraNath Mukherjee)
3)Speech by environmental experts
4)M.N. mukherjee's statement of experience in translating Prof Sikdar's Book ( with Recitation by Shri Purnendu Roy)
5)Discussion on GROUNDWATER RESOURCE ASSESSMENT DEVELOPMENT AND MANAGEMENT OF WEST BENGAL, Panel Members: Dr.S.P.Sinha Roy. Prof.Aniruddha Mukherjee. Prof KalyanRudra, Prof P.K.Sikdar,Sri Subhas Dutta
6)Showing of Documentary Film on Ganga The "Prabaha" Directed by Pamela Mukhopadhyay (IFHEC)
7)Exhibition of environment oriented Photos, Posters and Paintings
8)Others
8th June,2016 (Wednesday) 2pm to 8pm
Sri Biswajit Mukherjee, will preside over the Program
1)Exhibition and performances by different Organisations
2)Workshop on Producing Handmade Paper: Demonstrator: AnupamChakravarty(3pm to 4pm).
3)3) Discussion on Politics on Environment: the conflicts of Developed, Un-developed and Under-developed Countries. And discussion on environmental issues as appeared in the Book "Bipanna Paribesh-2016" published by Nagarik Mancha. (4pm to 5-30pm): [ Panel Members : AshisMazumdar, Milan Dutta, SuvenduDasgupta, Subhasis Mukherjee
4)Songs
5)Drama on Environmental aspect (6 pm to 6.30 pm)
Common on both the days:

Exhibition of Environment oriented Books, posters, photographs etc. on both the days
Exhibition of Organic Food/ Agro products on both the days.
You are cordially invited to participate in the Program and your environment oriented presentation is welcome.
With regards
Naba Dutta
General Secretary,
Nagarik Mancha
01.06.2016
Program Co-ordinators
(a) PabanMukherjee- 9831318265
(b) Dr.BiplabBasu- 9831636817
(c) Manindra Mukherjee-9635912049