Welcome to Nagarik Mancha
Perhaps the main pillars of Nagarik Mancha as a functioning unit are: to act as a non-party civil society initiative; to act as a solidarity and support group to grass root level initiatives; to remain alert and alive to issues related to labour, industry, environment and development; and to disseminate information…Read More
Notice
অধ্যাপক সুজয় বসু, সভাপতি সবুজ মঞ্চ
আমরা অত্যন্ত শোকাহত- আমাদের সবুজ মঞ্চ সংগঠনের সভাপতি মাননীয় অধ্যাপক সুজয় বসু মহাশয় গত ২2 ফেব্রুয়ারি শনিবার (৮৪ বছর বয়সে) প্রয়াত হয়েছেন।
তাঁর পারিবারিক প্রয়োজনে মরদেহ রবীন্দ্রনাথ ঠাকুর হাসপাতালে সংরক্ষিত ছিল। আজ ২৫ তারিখ সকালে তাঁর জীবনের বহু সময়ের কর্মস্থান যাদবপুর বিশ্ববিদ্যালয় হয়ে কেওড়াতলা মহাশ্মশানে তাঁর মরদেহ দাহ করা হয়। সবুজ মঞ্চের সদস্যরা তাঁকে শেষ শ্রদ্ধা জানাতে সঙ্গে ছিলেন।
আমরা তাঁর আত্মার পরম শান্তি কামনা করি। তাঁর পরিবারের প্রতি সহমর্মিতা প্রকাশ করছি। তাঁর আদর্শ অনুসরণ করে যেন আমরা কাজ করতে পারি এই কামনা করি ।
আগামী ৭ মার্চ বিকেল ৪টায় তাঁর স্মরণে একটি সভার আয়োজন করা হয়েছে। স্থান পরে জানানো হবে।
Dear Friends,
Some of you have already come to the Nagarik Mancha stall (No. 433) at KBF-2020.
Others are yet to come.
It is located just in front of Gate No. 7.
We request you to kindly pay your annual membership / donation, if any, at our KBF-2020 Stall No. 433, if you have not done so already. It will be wonderful to meet you and we will also be getting a chance to show you our book collection.
Hope to see you soon.
Warmly
Naba Dutta
General Secretary
9831172060
Dear Friends
You are perhaps aware by now that Nagarik Mancha is at Kolkata Book Fair. The Stall No. is 433, which is just in front of Gate No. 7.
Kindly note that this year, after a long gap, we have been able stock for sale current publications from CSE (Center for Science and Environment, Delhi) and RUPE (Research Unit for Political Economy, Mumbai).
It is very heartening to note that 'Down to Earth' publications and the 'Aspects of Indian Economy' are in great demand.
Qualitatively and quantitatively, the overall collection of books at our stall is even better than last year.
Additionally, 'Manushir Boighar', the collection of books related to women's issues, is unique, and is attracting both attention and praise for the 300 odd titles on a single subject.
We are sure that you will come yourself and inform others about our stall and collection.
We need not remind you that this annual activity at the Book Fair, since 1993, is aimed at connecting with as many members and well wishers as possible and raise funds for our year-long activities.
With warm regards
Naba Dutta
General Secretary
On 31st January, Friday at 5-30 pm the Book Titled – "ICHHAMOTI EKTI ANDOLANER NAAM " written by Sri Jyotirmoy Saraswati will be opened by Prof. SUGATA HAZRA( Jadavpur University) at NAGARIK MANCHA BOOK STALL( Kolkata Boi Mela, 2020) Stall No- 433 ( Entrance by Gate No-7, move straight and just right/ front of Deb Sahitya Kutir Book Stall) .
We invite you all with the request to kindly take part in this Publication / inauguration ceremony of so important Book on the matter of Ichhamoti River Conservation / Environment Protection Movement in West Bengal .
Thanking you,
With regards
NABA DUTTA
General Scretary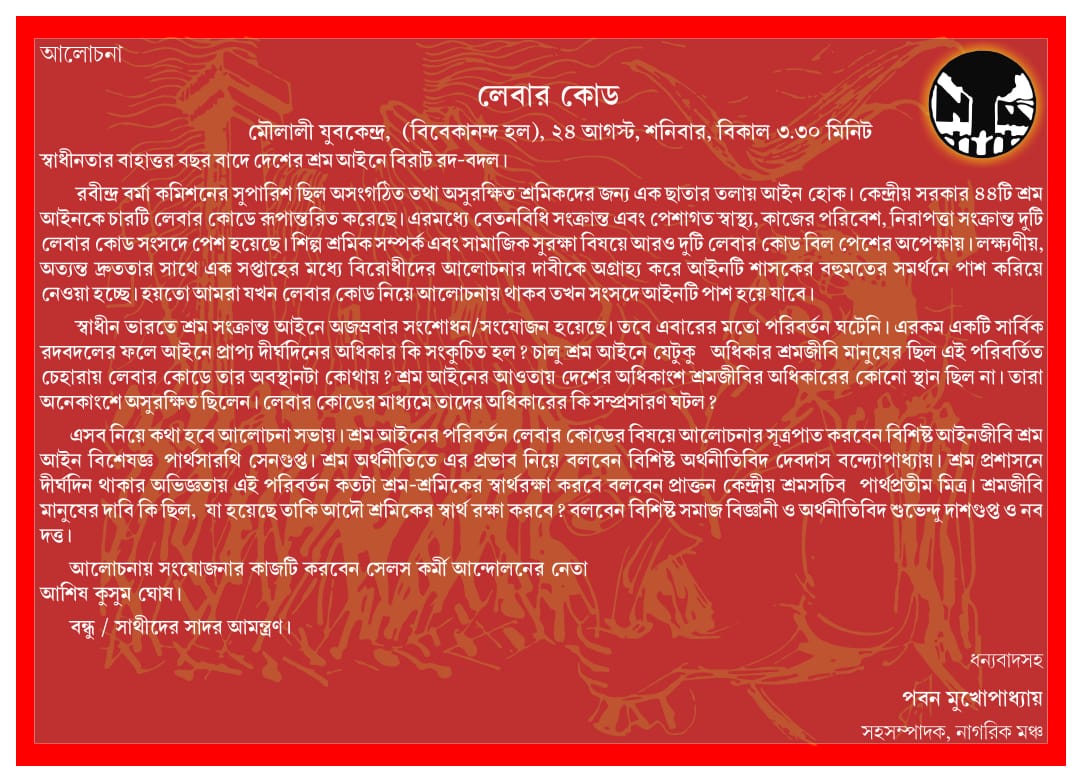 Arthanitir Panch Bachhar – Ekti Samiksha
Nagarik Mancha Abeden 22 April 2019
A dialogue on – Saving trams and public transport in Kolkata

Press Conference 06-04-2019

Program of NAGARIK MANCHA on OCCUPATIONAL DISEASE
IN ASSOCIATION WITH THE ASBESTOSIS  SUFFERING WORKERS
CITIZEN-CONVENTION
ON SATURDAY, 23-2-2019  at SEMINAR  HALL of MP BIRLA PLANETARIUM (96, Jawahrlal NehruRoad, Kolkata-700071  at 3pm (up to 6pm).

Uploads
Forthcoming Programmes

18 August, Saturday, 2018, 4PM-7PM: 'Manusi Katha Ptrikar Borshopurti te alochona Naribad Lingovittik Noi – Ekti Dorshon', at Ekatre Bulding – Avishar, Kalikapur.
Books
News / Action Alert
Latest Announcements